1972 Baja Bronco
Stroppe-installed Toploader 4-speed truck!!!
Our 4-speed Baja is back in our hands! Not sure if you all were watching, but we had latched onto this 1972 Baja back in January of last year. Unfortuneately we were in the middle of a move and had to let it go; you may have seen the auction on eBay. Well, anyway, the new owner decided a Shelby was more to his liking, so we bought it back. This picture is from a happier day though...
It seems that this particular Baja suffered a much worse fate than most of those pictured elsewhere on this site. The victim of a drunk driving accident, this Baja was almost totalled and parted out! It all started with a call from a fellow Baja owner in November of 2004. He said his beloved Baja, Iggy, was killed out in front of his house by an E350 Ford with an intoxicated driver at the wheel. The Baja ended up at a Bronco shop for restoration, but somehow, it was parted out. They sold off the windshield, rollbar, doors, engine, and hardtop before I was able to stop them and save the truck.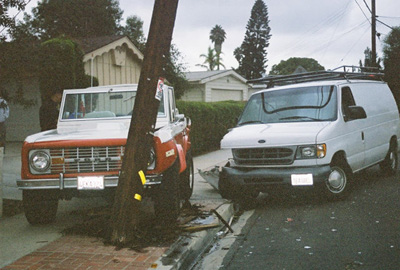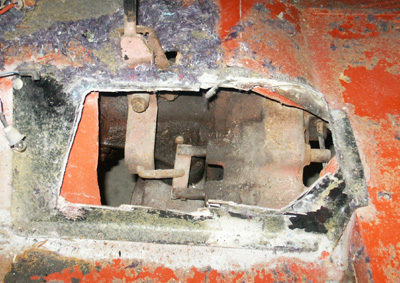 I was skeptical at first as I had previously thought the truck had manual steering and 3-speed on the floor, making it a lower-optioned Baja. Not that they are not worth saving....any Baja needs to be preserved. It's just that I wasn't sure, I wanted to be the one. Well after a few phone conversations with the Bronco shop involved, I found this Baja was actually a rare 4-speed equipped Baja, one of 2 known to exist. And therefore..... must be saved. So I sent a check and had the truck transported up to northern California. As soon as I got it I spied the black transmission tunnel extension identical to the one pictured in the Stroppe catalog. Historically, white fiberglass or textured plastic has been what came with Duff, Hurst, and other 4-speed shifters. The one on the truck is toast, but of course will be retained for historical value.
The teardown began before we sold it the first time and the damage was exposed. The frame isn't bent, but the rear spring on the left side is. The left rear quarter will be replaced complete with the wheel tub, while retaining the latchpost. Another Stroppe rollbar was acquired to replace the original that was straightened and sold to the east coast by the Bronco shop.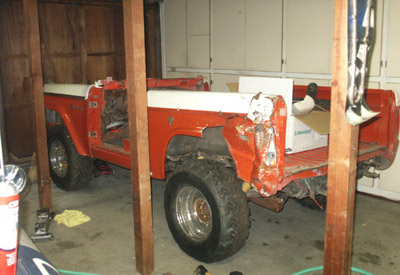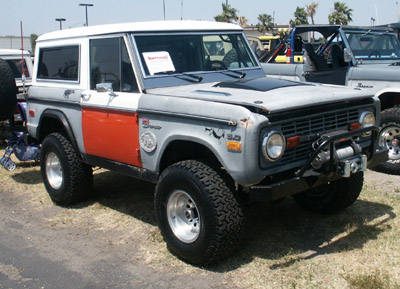 Um, there are our DOOORS!! Oh well, nothing real special about the doors off a stroppe...except for that paint job...maybe Steve Sampson, current owner of the doors, and EBR president will let us peel off the paint at the 40th anniversary... C'mon, how bout it Steve?!
During it's stay in Colorado after we sold it, it found a set of doors and a shabby cage. Both are for sale. You want em??? The truck is a pretty unique Baja. It is also equipped with the Stroppe-installed power steering as well as all the normal Baja items: bumper braces, dual shocks, 4.11 gears, trailer hitch, wheels, etc, which are all still in place. Another cool option on this Baja are Rear Air Bags for the springs. The Marti Report on this truck shows it was originally sold at Robinson Ford in Calexico, CA, right on the border.... a true Baja Bronco. Reconstruction of the tub was scheduled for 2006, but the scope of the restoration has become much larger and will require we finish the chassis first. That is what I'm doing right now so click here for Page Two in the 4-speed restoration!