1972 Baja Bronco
Stroppe-installed Toploader 4-speed truck, Page 2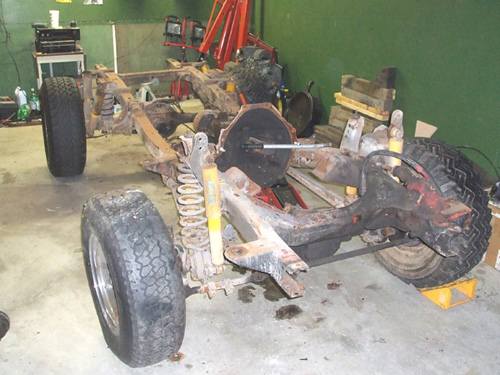 The 4-speed project is finally in full swing. We've had this Baja for about 9 months this time, and finally have made some time to do the project. We've decided to do a body-off restoration on it because, after closer examination, the body has significant body filler and some previously repaired rust. At this point, the body might get scrapped, but more importantly the frame needs to be stripped and restored....so thats where we'll start. We began by removing the garbage cage, and selling the blue doors it had. We then cut the body mounts off and removed the body. It was a breeze with 4 people. Finally we could get at all the hard to reach places and begin teardown of the frame now tucked in a corner of the shop.
I'd been able to check the numbers on the transmission earlier and knew it left Ford for use in a 1971 Mustang Boss 351 or 351 CJ equipped Mustang. This is designated by the metal tag pictured. It's found on the passenger side of the case, by the belhousing. The code "RUG BJ" designates it as being for that specific application and for cars produced before 12/1/1971. Our 4-speed Baja was built in October of 71, so the transmission and Bronco match, further supporting the trucks 4-speed heritage. Special thanks to David Kee Toploaders(www.davidkeetoploaders.com) for their helpful chart that clued us in to this information.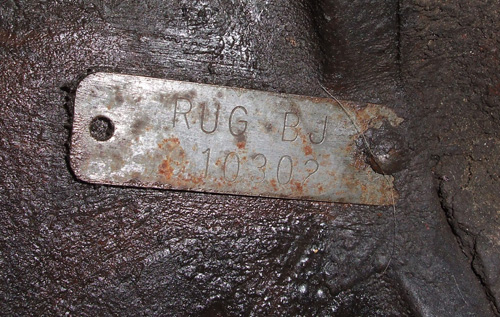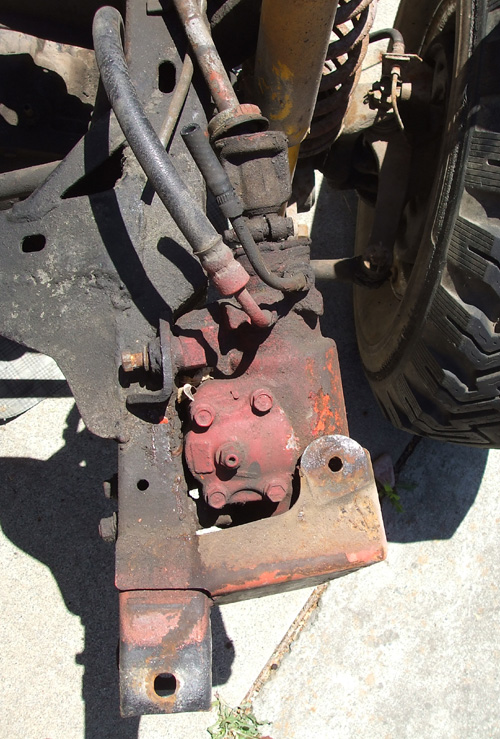 Here's the Stroppe power steering unit. You can see how much of a pain it was to install. Major modification to the frame rail. I know, I know, you can do that in your garage, and you made your own rollbar... but not everyone is that talented, and for an upgrade back then on a production vehicle...it's pretty neat. We need to straighten the body mount there because it's a little tweaked from snapping a telephone pole at the base. Still, I'm fully confident in Bronco frames now - after checking the frame on the laser machine it's still within spec! Baja Bronco 1, PacBell 0.
Also, digging at the history of the Baja in our spare time, turned up another pre-accident photo. It was pretty nice before! We are for sure going to find a set of those Per-Lux lights for the roof - those have GOT to go back on!
Okay, got a little more done - Check out page 3!