1972 Baja Bronco
UPDATE 5/08: 4-speed Baja Restoration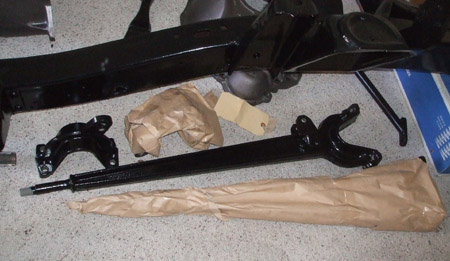 Well, it's about time for an update on the 4-speed Baja restoration. Things have been hectic with our recent find of an original Stroppe Racer, but we are still taking time out to work on the project. What we've been up to lately is a ton of painting! We are using all original hardware on the chassis. This means lots of bead blasting, sand blasting, and painting/plating of parts
The original hardware on this Bronco was pretty pitted from all the rust. While I dont mind powdercoating over pits on an original frame as showing scars of use, it's downright dangerous to use rusty hardware. Luckily, my 73 project Bronco Ranger had original hardware throughout and was from Pleasanton, Ca orinally...so no rust. I used the spring hardware from it, but was able to find these NOS U-bolts for the axle.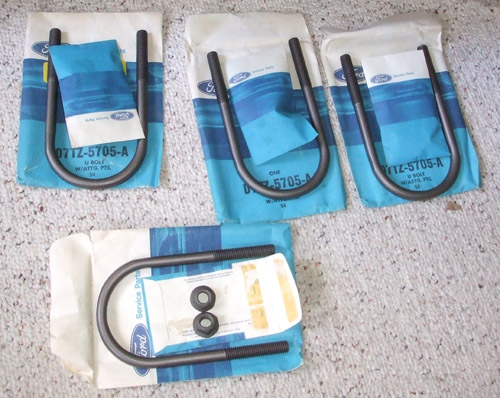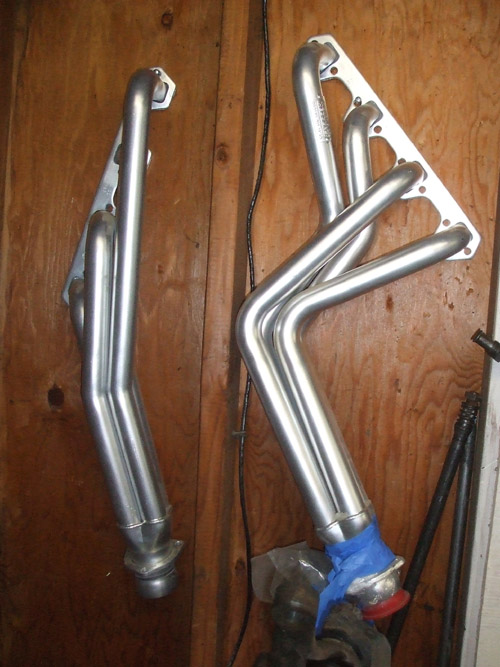 In it's last configuration before hitting the telephone pole, the 4-speed Baja had Hooker Fenderwell Headers. Pretty awesome, but after spending all the time getting the body straight, we chose to run these Hedman coated headers for now. If we need to, we'll make the change after resto to the Hooker units.
The original coil cups were sand blasted, and painted. They were actually in great shape and needed little work. Here they are drying with the rear spring hardware. We still have to dive into the AirLift Airbag bracketry and restore it. It was never painted really well and the rust got after it to the point it is pretty pitted. Right now we want it to roll, so that can wait.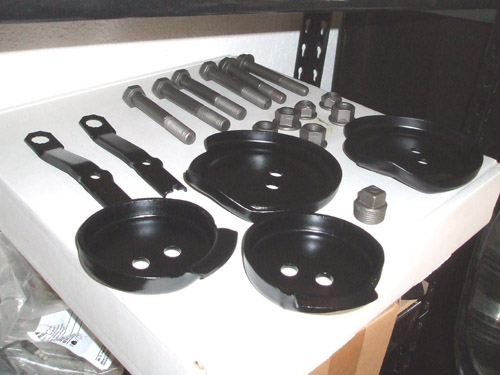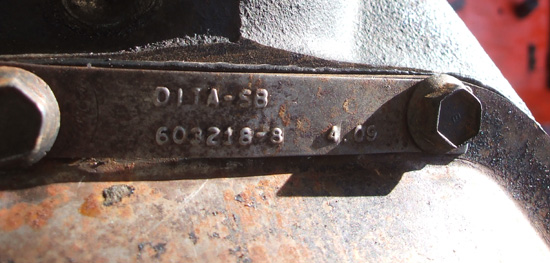 I need one of these tags if you can spare it. This is on another 72 Baja, but I need one for the 4-speed. Mine is illegible. Should be a D1T tag pretty much just like this. If you can spare it, that'd be great! $
With the chassis detailing pretty much wrapped up, I'm now starting to move on to the drivetrain. The motor was gone when we got it, but other than the headers, we really dont know how it was. The last known driver reported it was dead reliable. So we're hoping for that with our correct date coded 71 302 we picked out of a Bronco locally. It's got the Nostalgia 289 HP cam from Comp Cams, roller rockers, fully balanced, high quality pistons...built for reliability. While I search for the right intake, I'm going to get started on trans detailing and painting the t-case. Keep checkin back! Pick a page, any page, Page Two all the way back to The Beginning or... Page Three? UPDATE - PAGE 5