David's '73 Stroppe Baja Bronco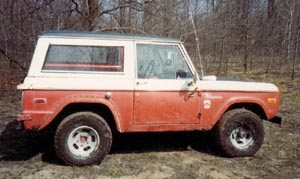 This is David Atwater's 73 Baja. David bought his Bronco in Colorado a few years ago. It is all original except for a rebuilt 302 with an Edelbrock manifold and Holley 600 carb. The C4 has also been gone over and features a shift kit to make good use of the Detroit locker in the 4.11 rear.
Other than that David's Baja is mostly stock with the exception of the Chevy disc brake conversion and 33x9.5 BFGs. David's plans call for a complete restoration in the future.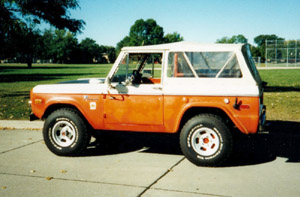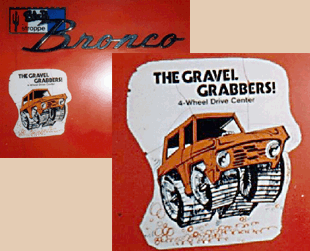 Notice the sticker under David's original Baja decals. If you have any information about the Gravel Grabbers 4Wheel Drive Center, please let us know. Looks like it was a Bronco dealer of some sort...
UPDATE: Bronco John from Elk Grove Village, IL helped us out with this one by sending us his original Fairway Ford Gravel Grabber catalog from 1974. Apparently Fairway Ford in southern California carried many aftermarket parts for the Bronco and Ford Pick-ups and called the parts department "The Gravel Grabbers". The catalog was full of Stroppe, Hickey, and other quality parts. Our best guess is that either David's Bronco was originally sold at Fairway, or was modified by them at some point.