Gerald's '73 Stroppe Baja Bronco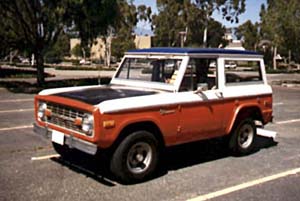 This is Gerald's 73 Baja Bronco. This truck was my first Baja Bronco. Gerald bought it in March and plans to have some fun with it. His plans include new carpet, paint, and some trips to the snow.
This truck is all original and still runs strong. It's a Phase I Baja Bronco with some options. It was ordered from Jack Roach Ford in Houston, Texas with Cibie Rectangle Lights, Middle Seat, and A101 Competition 4-pt harnesses.
At right is a current picture of Gerald's '73, with the top off.