Jaeson's '72 Stroppe Baja Bronco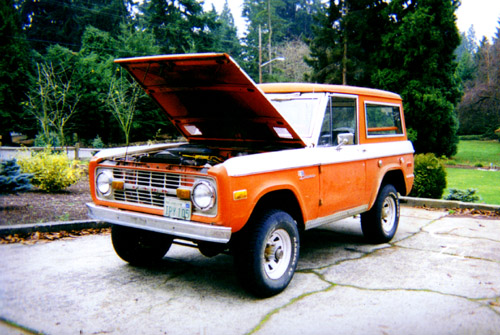 Here's Jaeson's Baja Bronco. It's a 72 model that his grandfather bought when it was nearly new. He and his family thought that it was always orange and white because that's the way it was even in '73. Upon closer inspection, Jaeson found some blue and black under the orange and white on the hood and top. He knew it was original paint on the lower half because of the Baja fender decals.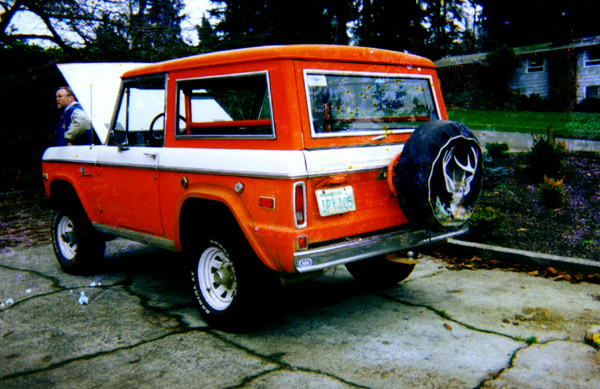 Jaeson sold me this truck back in 2000 and I ended up selling it back to him after slacking off and doing almost nothing to it. Well, I take that back, I did do a few things. When I got the truck, it had been sitting and had a funky misfire, but ran really strong. I was pretty sure it wasn't the carburetor so I went to town on the distributor and ignition and pulled them out. Out with the distributor came the oil pump drive shaft. Now I had to pull the pan! Yeah! After doing that I installed a new distributor and Pertronix ignitor. While I was at it, I changed the carb to a known good one and the misfire was all gone....all that work for nothing. Anyway, at least I made it run better. I literally put maybe 50 miles on the truck in the nearly 2 years I had it.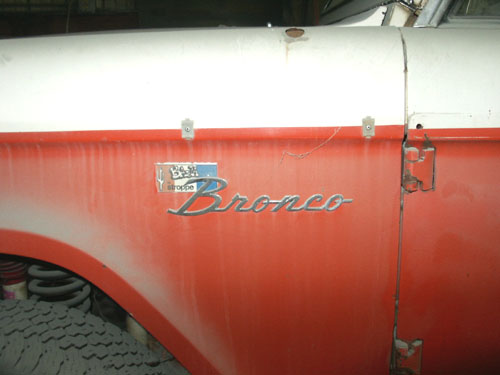 Jaeson is now restoring this Bronco. He's collected the right wheels and ordered a reproduction pushbar from me. Here's a pic showing the original fender decal and Baja Bronco paintline below the chrome strip. Cool original details!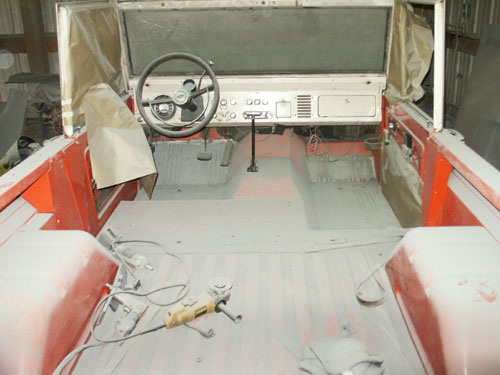 The floor pans were the only metal that needed to be replaced, and they weren't even too bad. Just a little swiss cheese. Notice the original Baja steering wheel in good shape and the uncut dash. This Baja is an excellent candidate for restoration.