Liz' '71 Stroppe Baja Bronco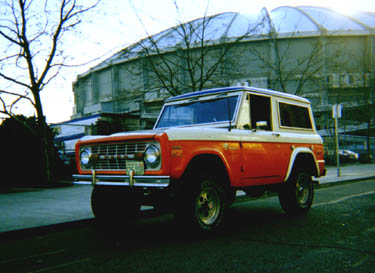 Last October, Liz Eckert bought our '71 Stroppe. She intends on driving it daily and fully enjoying it. I'd have to say that it was the nicest Stroppe I've owned so far and I'll miss it alot, but I know it is in good hands I'll keep our pics of it up and post new pics as I get them from Liz.

This is our(now Liz') '71 Baja Bronco a couple days after we bought it. It was a pretty original Baja with the only items missing being the original flares and wheels. One thing that is somewhat unusual about this particular truck is that it has a halfcab bulkhead instead of a rear seat. It's also missing the beltline chrome that was part of the Sport package. It's shown here in it's native Seattle next to the soon-to-be imploded KingDome.
After letting it sit in Seattle for a year, we brought it down to California and started working on it. The transmission decided it was first in line on the repair list by refusing to drive in anything but second gear. Next we added Shorty headers to the rebuilt motor and upgraded to a 4-core radiator at the same time. On the outside we painted the flares orange like they should be and brought a set of original Stroppe mags out of storage for rolling stock. By the time this photo was taken, we had also installed a tire carrier and repro Stroppe tire cover, 3.5 inch lift(to replace an older, previous lift), Stroppe pushbar and Cibie lights. Photo was taken at the top of the Staircase at Hollister Hills with Tim Maguire behind the wheel and Greg Garrison checking out the travel.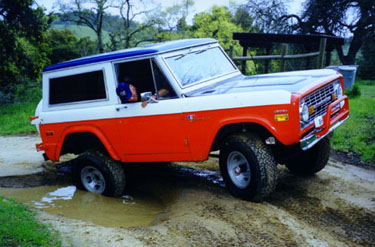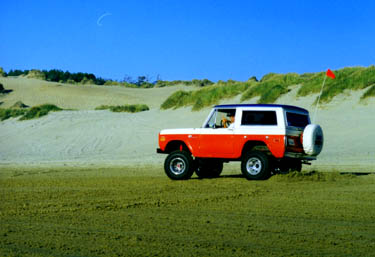 The disc brake conversion we performed in June necessitated use of a different wheel. It seems that the original Stroppe mags interfered with the caliper. We may have been able to use spacers, but since we were modifying this Stroppe(conscious decision??), we opted for a set of 15x10" Mickey Thompson Classic alloys with 32"BFG M/T tires. Here we are enjoying ourselves at Son O' Beach IV last September in Sandlake, OR. Before we sold it we removed the Cibie lights, wheels, and added some '91 Mustang seats. Look for an updated pic soon!