The Red Racer: A Stroppe Racer Surfaces
owned by Andrew Norton and Todd Zuercher
This is our original Stroppe racing Bronco. Below is the story of how we found it and had the good fortune to own and restore it. It is the most original and intact Stroppe racing Bronco known to exist. There are only a handful left, and only 3 of them are running, complete vehicles. Johnny Crean's old racing Bronco is still intact, but converted to street use and in the Los Angeles area. Off-Road legend Rod Hall has recently been racing an original Stroppe Bronco in the NORRA Mexican 1000. It's one that he raced with Wayne Minor in the 1971 Mint 400, and with which Wayne won the 1971 Baja 500 along with co driver Gary Scaramella. After that, Lou Fuentes and Chuck Wegen raced it in 1972 Baja 500 and 1000 races, and finally purchased in 1973 and raced '74-circa 80 by Bob Jackson and Myron Croel. While the Rod Hall camp and I disagree on which truck won the 1969 Mexican 1000, it's great to have him out there racing an original Stroppe racing Bronco like he did for many years. See the link to a power point presentation outlining the details on the 1969 Mexican 1000 racing Bronco, and differences between the "Red Racer" we found, and the "Barstow Bronco" and decide for yourself.
In April 2008, I got a call from Todd Zuercher about a certain red Bronco that he and I know about. I've known Todd since sometime shortly after I jointed the EBR-NET back in Fall of 1995. I found early on from the list, that Todd and I shared a strong interest in the Bill Stroppe prepared Broncos. My interest at the time was in the production Baja Broncos, mainly that I wanted to own one! Todd's interest in Broncos, stems from him being a desert racing enthusiast and Bronco owner since he was 7 or 8. In any case, Todd and I usually email, so a call was unexpected. He said something like: "Well, it finally happened..." and I knew exactly what he was going to say.
Our Red Racer was finally offered for sale. We called it "Our" Red Racer, because after a couple racers surfaced in the past 10 years, without a chance for either of us to purchase them, we kept this one secret even though it belonged to someone else. Sometime in 1998, Todd gave me 4 pictures (I believe I was only supposed to borrow them, but I somehow held on to them) of a red and gold Bronco outfitted for sand use. It was obviously a Stroppe racer with it's trademark cage, engine compartment, dash, and rocker-exitting straight pipe exhausts. Shortly after the sand pics were taken, the truck was moved into a toybox trailer and didn't see the light of day for years.
I think for both of us, these trucks really meant alot for not only the Bronco's success as a Ford product, but also for desert racing. Stroppe's team of Broncos and Ford trucks dominated in the early years. The orange white and blue paint schemes were highly recognizeable, especially since they were the only team that was really out in force. So when the only existing examples were Parnelli Jones' Big Oly and a derelict out in the desert, we began to wonder....where are all the original Stroppe Race Broncos?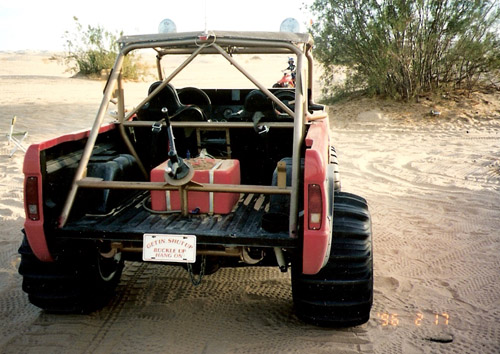 Like a race vehicle from any breed or brand of car, the Broncos are important and should be preserved and researched. Since the late 90s, I've been collecting Bronco race photos, footage, and memorobilia. Todd has been collecting even longer and still has many magazines he bought as a kid in the 70s. Lots of stories are remembered and passed on, but some of the details get foggy and these photos and documents hold the key to some of the truck's careers and fates.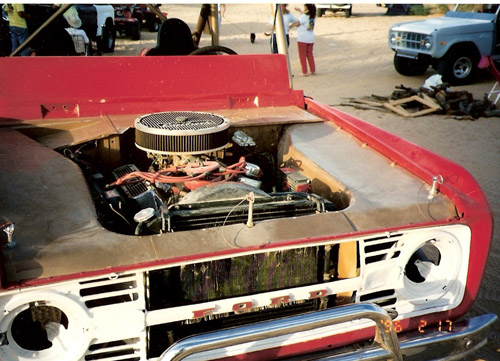 Our ultimate goal is to restore it to race trim. That sounds like a big task, but is actually an even tougher one for a couple of reasons. One is that Stroppe rebuilt and reused these trucks with different drivers, equipment, fuels, and sponsors. So one truck could conceivabley have had many different "looks." Another reason is that the history on this particular chassis is unknown before it's current Sand Racer status.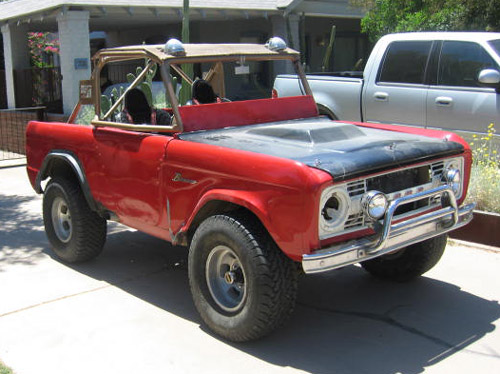 One or two photos from before the red paint exist....the previous owner is trying to locate them for us. Also, the hood, described by the previous owner as "funky" is across the state and on it's way to us at the time of this writing. Meanwhile, we are picking out details on the truck and in pictures we have trying to sort out which truck this is. We've also spoken a few times with Willie Stroppe and are busy trading detail info with him. It will be a long road, but worth the effort of the research. In the end we'll have a correctly restored truck, based on facts, photos, and interviews with those that were there when this truck was raced.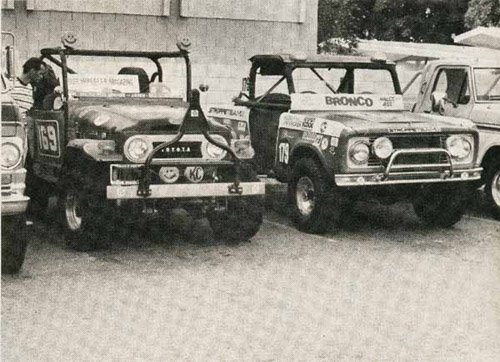 Stay tuned as the information "finds" are posted. Do you see something familiar or do you have a photo you think we dont have? Your input can help us alot. Please send it on! We are especially interested in any old non-magazine photos you may have. For the right artifacts, a keychain or pin awaits!