Interview with Brad Searer, Former Stroppe Employee
by Todd Zuercher
How many Early Bronco owners have dreamed of working for someone like the legendary Bill Stroppe? For one Arizona Classic Bronco member, Brad Searer, that dream became a reality nearly twenty five years ago when he left Tucson, Arizona and headed west to seek his fortune in the automotive mecca that was, and is, southern California. The years Brad spent in Long Beach are still firmly etched in his mind today and form the basis of his love for the early Ford Bronco.
While working in the parts department at a local Ford dealership, Brad decided to leave Tucson in in the mid 1970's and headed west to the Los Angeles area. He says he simply walked into Stroppe's shop and asked for a job. He started with the most menial tasks around the shop but soon Stroppe discovered the young lad knew his stuff and before he knew it, he was Stroppe's parts man at the shop. In addition to procuring parts for the various off road racing vehicles in the shop, Brad was also responsible for keeping the other project needs fulfilled as well. In addition to the off road racing vehicles, Stroppe was also responsible for maintaining Ford's West Coast Test Fleet. And so, for the next eight years, in various capacities, Brad enjoyed a close working relationship with Bill Stroppe and a close personal friendship as well.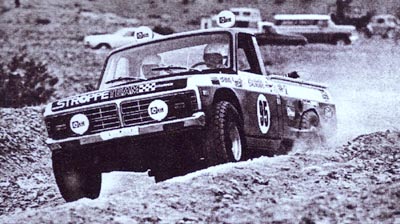 So the usual first question that comes up when you meet Brad is, "what about all the cool Broncos around the shop?". The truth is, he missed the glory years of Bronco racing. Big Oly had been retired a year or two before when Stroppe and Parnelli Jones crashed and killed a spectator in Mexico in the 1974 Baja race. The Baja Broncos had all been built by the time he started. Brad did get to race in an early Bronco, though, in the 1976 Baja 1000. As a Stroppe employee, Brad went to most of the races as a pit crew member and helped chase the race vehicles during the race and help with any mechanical repairs that were needed. In the 1976 1000, Brad was at the Stroppe pit about 150 miles into the race. One of the Broncos racing that year was driven by a Mexican named Alfonso Barbosa. When Barbosa came into the pits at the 150 mile mark, Jaime Martinez (Stroppe's crew chief), handed Brad a driving suit and helmet and told him to get in the truck. "What, me?" replied Brad, in disbelief. "Yes, you're the new co-driver", replied Martinez. Apparently the original co-driver wanted no part of off-road racing after 150 miles of pounding and Brad was to take his place. "After I learned to relax and not tense up for every bump," Brad said, "it wasn't so bad". He ended up riding for most of the race. In following years he co-drive in numerous F- Series trucks prepped by Stroppe. These races are still recalled fondly by Brad and after twenty years he can still remember faces, conversations, and speeds on the dry lake beds (130 mph +) like they happened yesterday. He says, "I have to pinch myself sometimes to remind myself that here I was, a little ol' boy from Tucson, riding with and hanging out with the big stars of off road racing".

I asked Brad what the secrets were behind Stroppe's success in the desert for so many years. He told that Stroppe was a stickler for preparation and every nut and bolt was checked before every race. Each truck was torn down and inspected between races. "Stroppe's trucks were always heavy and perhaps slower than a lot of the other vehicles out there, but they didn't break down", replied Brad. His Broncos didn't have anything special or 'trick' done to them in terms of modifications. "McCarthy's (Mike McCarthy, ACB member) truck has a far more advanced suspension system on it than Bill's trucks ever did," Searer stated. Stroppe was a workaholic who worked seven days a week and demanded a lot from his employees but he inspired you to do your best and work hard too according to Brad. He recalled how Stroppe helped out numerous people, particularly needy friends south of the border that he had come in contact with over the years.
Now almost two decades after returning to slower pace in southern Arizona, Brad still recalls his days spent at Bill Stroppe & Son with fondness. And perhaps most telling of Stroppe's influence, he still drives an early Bronco and works in sales at a local Ford dealership. His '66 is a familiar sight at Arizona Classic Bronco runs and it's in a constant state of improvement and constantly evolving; a tribute to his favorite former employer.
Article © 1998-99 Todd Zuercher.
All rights reserved. Do not duplicate or redistribute in any form.